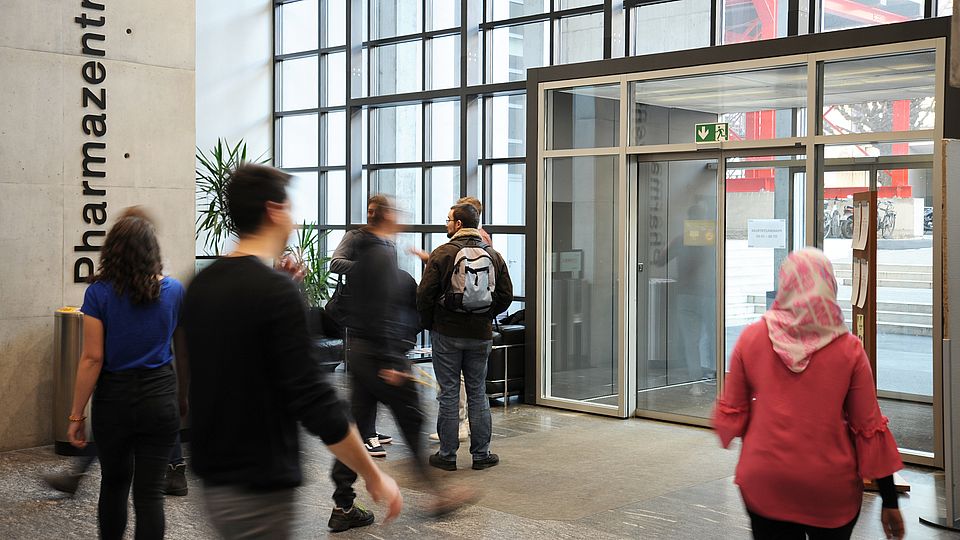 The Department of Pharmaceutical Sciences is characterized by its broad and internationally successful research throughout the entire drug development process. Topics range from the discovery and optimization of active ingredients, their effects and possible side effects, to the production of suitable drug forms and their application to patients. The pharmaceutical sciences are deliberately translational in orientation, i.e. they form a bridge between the basic research-oriented disciplines of the Faculty of Philosophy and Natural Sciences and the clinical disciplines of the Medical Faculty.
We are committed to teaching in this exciting environment. Our students benefit from the extensive experience of our lecturers from science, industry and health care in three study programs:
In the undergraduate studies for the Bachelor's degree in Pharmaceutical Sciences and in the two subsequent Master's degrees in Pharmacy and Drug Sciences, students are prepared for their future activities as medical professionals, in particular e.g. in a pharmacy or hospital, or for a later career in the pharmaceutical industry or in academic research. Our lecturers introduce them to all aspects of modern pharmaceutical research and patient-oriented pharmaceutical methods.
The Department of Pharmaceutical Sciences has a lean structure and, with approximately 700 students, holds an unceasing popularity as a university training centre. This, combined with the high standard of research, shows the enormous commitment of all employees in our unit, who work every day to achieve the best possible results in teaching and research.
Flyer Department Pharmaceutical Sciences